Global leader in P. vannamei shrimp breeding and nutrition
SyAqua defines the leading edge in shrimp breeding, using cutting edge technologies to deliver best-in-class hatchery feed, genomic selection, quantitative genetics and breeding science. Through our advanced expertise in shrimp nutrition and genetics, we provide the industry with top performing results for yield and growth.
scroll
ABOUT
WHO WE ARE
The P. vannamei breeding program of SyAqua was first started in Berkeley, California in 2002, subsequently expanding to numerous markets worldwide such as Indonesia, Malaysia, Thailand and more. Over the years, our cutting-edge genetics and nutritional research have resulted in many highly recognized products and programs trusted in top hatcheries and farms across the globe. SyAqua believes in a balanced approach to breeding, combining excellent performance in growth as well as survival to enhance disease resistance.
read more
GENETICS
We provide broodstock and nauplii to hatcheries and post larvae (PL) for commercial grow out, research and other applications. We also offer a range of high performance hatchery nutrition products for maturation diets, zoea, mysis and PL feeds from Gold Coin Biotechnologies. We support our customers with world class technical services to ensure your success with our products.
NUTRITION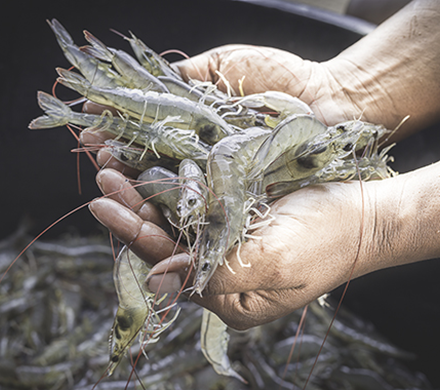 SyAqua feed products are the result of years of research and development into shrimp larval nutrition. Formulated with high quality, highly digestible ingredients and emphasis on optimal growth, assimilation and nutritional value. Used in hatcheries across the world, our products are reputed for delivering faster yield rates and higher quality yield.
read more